You are Watching Ad Astra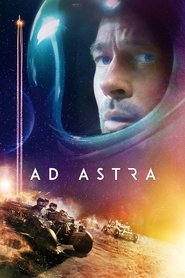 ( 1080p HD Quality )
Ad Astra (2019)
Storyline:
An astronaut travels to the outer edges of the solar system to find his father and unravel a mystery that threatens the survival of our planet. He uncovers secrets which challenge the nature of human existence and our place in the cosmos.
Movie Title: Ad Astra
Rated: PG-13
Genre: Adventure, Drama, Mystery, Science Fiction, Thriller
Director: James Gray
Actors: Brad Pitt, Donald Sutherland, Donnie Keshawarz, Greg Bryk, Jamie Kennedy, John Ortiz, Kimberly Elise, Loren Dean, Ruth Negga, Tommy Lee Jones
Release Date: 2019-09-17
Duration: 123 min
Tagline: The answers we seek are just outside our reach.
Quality: HD
Views: 10945